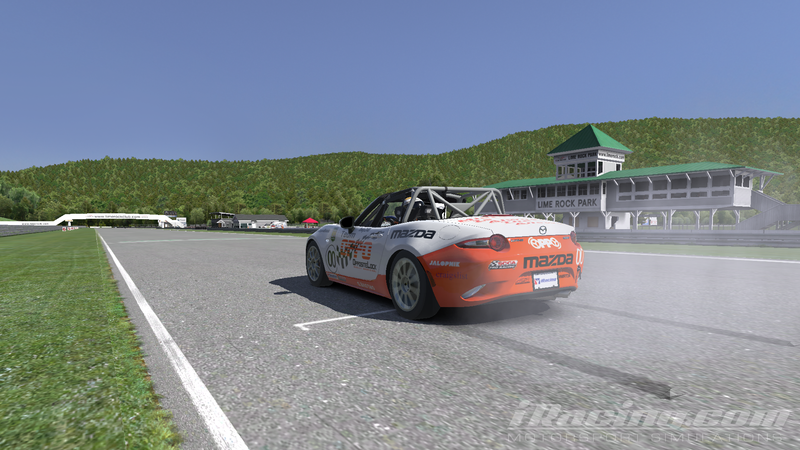 Greetings Opponauts, the time has finally come to announce our first ever Team Oppo hosted iRacing event. This race will feature up to 62 Global MX-5 cup cars for 90 minutes of racing on the Lime Rock Park circuit. Here are the event details...
Date: Sunday April 23, 2017

Practice Begins: 10:30 AM EDT

Qualifying Begins: 12:30 PM EDT

Race Begins: 1 PM EDT

Race Details

Length: 1.5 Hours (90 Minutes)

Start: Rolling

Yellows: On

Wave By: On

Restarts: Single File, Lapped at Back

Setup: Fixed

Fuel Limitations: 25% tank

Resets: 2
Race Rules/Details
Please be somewhat serious in race. Feel free to goof around in practice, but during qualifying and the race, please be "professional" and courteous (aka don't be a dick). iRacing service rules are in effect.
Intentional wrecking will not be tolerated during any period of qualifying or racing.
Practice - Practice will be open to all for lapping around the course. If requested, pit parties and formation practice may occur. Race Control will advise when these event are occurring.
Qualifying - There will be 30 Minutes of Open Qualifying. This means everyone can be on track at once. It is essentially a practice session where your fastest lap determines your starting position.
Full Course Yellows - Full course yellows will be on during the race. Yellows will only be put out if there is a direct danger to drivers on track (for example, a large pileup, track blockage, blind corner crash, etc.). Team Oppo members will serve as admin during the race and will trigger a caution if necessary or if the iRacing system doesn't automatically..
Anyone found to be intentionally stopping to bring out a yellow will be kicked.
When a Yellow comes out do not race back to the line or slam on your brakes. Smoothly slow down and form up behind the safety car. If possible, the leader should call out the safety car location when you catch it. The first car 1 lap down will get a lap back. Restarts will be single file, lapped at back.
Fuel is limited to 25% of the tank. This is to force pit stops. Over the 90 minute race this should be about 3-4 stops (every 20-30 mins). For strategy makers, it takes about 20 seconds to fill the car; 2 tires take ~14 seconds, 4 tires take ~25 seconds. Strategize accordingly.
You get 3 cars for this race, the one you start with and 2 more in the pits. If you wreck your car reset to pit road and rejoin the track.
Black flags will not be cleared.
Other Details
Lime Rock Park and the Global MX-5 are included with the base subscription so everyone can race.
The setup will be a fixed set - no tweaking needed, it will be the same set as used in the Rookie series
Your Times should be between 58.5 and 1:04's. For road racing if you are within 3 seconds of fast times, you are doing alright. Note: These time assessments are with the regulation sized Rookie Mazda fuel load. Because we are using less fuel, expect times to be a bit faster. Remember, this is an endurance race, just because you are not fast for a single lap does not mean you aren't competitive
Oppositelock gets first dibs on sign-ups, which start now. General iRacing sign ups begin April 17th.
Bidding is open to the first 60 drivers. Any signups after wards will be placed on a waiting list.
The race will be password protected but open to anyone. The first 60 drivers will receive the room password by the beginning of practice. All of these drivers must be in the room before qualifying or they forfeit their reserved spot. All drivers on the waiting list will receive the room password at the beginning of the qualifying session. They must join before 1PM EDT.
All communication of race passwords/information will be done via iRacing PMs.
In race communications will be done with the iRacing chat. Team Oppo's Discord will be open during the race as well.
If anyone who is not interested in racing, but would like to help by being a race steward, please let me know. Responsibilities include: Calling Yellows, Wave arounds (if necessary), Reviewing incidents, Kicking sillinannies
Follow the link to sign up. All you need is your iRacing cutomerID. Please fill out your Oppo name as well for the post write up. I look forward to hosting and expect a great event.
If you have any questions, comments, or requests let me know.