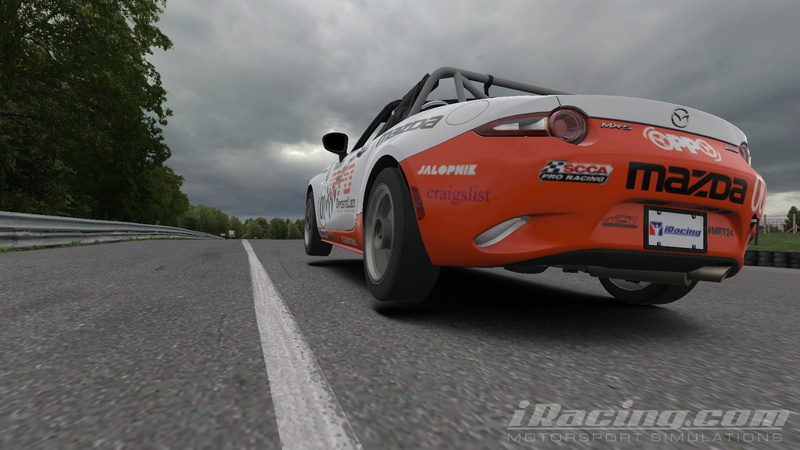 We are now under 24 Hours until the iRacing Oppo Miata Challenge. Welcome to the pre-race post. This post is geared to help you toward strategy and letting you know what to expect from the race.
One thing I have not told you about was the weather, it plays a very crucial role in the race. Let's go to Ollie Williams...
Fortunately for us, iRacing cannot simulate rain weather yet so here is the forecast. Note: the race conditions will be near what is reported by the NWS in Lakeville, CT.
Temp: 65 (lowest iRacing will go)

Humidity: ~65%

Winds: N at 7mph
What does this information mean to you as a race strategist. Well 3 things

Rain Saturday night will wash the track clean for Sunday.
Overcast skies and low temperatures means lots of grip.
Fortunately, there is no headwind or tailwind to deal with
The track is expected to be cold and grippy. The track will start clean and rubber/marbles will build up on track throughout practice and qualifying.
Now for the fuel restriction. There is a 25% cap on the amount of fuel that can be in the car. For the Miata that is about 2.7 gals. This should last you between 20 to 30 minutes (avg ~25) between fill ups depending on how you drive. If your lap times are in the 56s expect closer to 20, if you are over 60s, closer to 30. You should need 3 to 4 pit stops to finish the race. Below is a video of a 4-Tire pit stop:
Pit stops. You will only be able to take tires and fill with gas. There is no adjustments allowed on the car. It takes ~19 seconds to put 2 gallons into the Miata. It is the same for 2 tires plus gas. If you choose to change 4 tires, expect the stop to take ~22 seconds. Tires should not be too much on an issue during this event, but if you feel like you need more grip on right or left handers, you might consider changing them. Please note that this will affect the overall balance of the car and cause it to handle differently.
Speaking of handling, the fuel restriction and low temperatures means the car will be grippy, but light. It has been a blast to drive in testing. Watch for oversteer as the rear end does not have much weight on it. You should be able to drive the car much more aggressively than you can in a Rookie Miata race. During my testing, I was making laps in the 57s, and I am not a very good driver. Below is a 2 lap run of the track in similar conditions to tomorrow. Please note that I am driving a bit aggresively. VOLUME WARNING - I forgot to turn the mic off and there is clunking and feedback.
As stated before, do not worry too much about how fast or slow you are. If you are within 3 seconds of the fast times, you are going to be okay, especially because we are splitting into Pro and AM categories. But, strategy and consistency will win this race over speed, and, if we get the full field of driver, traffic will be an issue. Don't worry if you crash, you are given 2 resets (aka free cars) for the race. If you crash, drive it back to the pits if you can, get a new car, and come back out.
If requested we can work on some race starts and racing during free practice; however, I will be actively recruiting drivers until race start a 1PM EDT.
See you all tomorrow