This past weekend, Team Oppo was back on track at the world's center of racing for the iRacing Indy 500 in the HondaBro Shitpost Special. Keep reading to see how we did. Hint: We didn't finish last!
Qualifying
Qualifying went just about as expected, except worse. I found out on Friday morning that qualifying ended that evening. I thought that it lasted throughout the weekend, I was wrong. This only gave me about an hour to figure out how to make the car go as fast as possible.
Setting up the car was a challenge. Practice went okay, but qualifying went badly. During the qualifying session, I messed up, hit the rumble strip, and nearly wrecked the car. This significantly affected my 4 lap average, and resulted in a shitpost time, placing me in the 500s of 700 drivers.
Race Day
After a year hiatus, I returned to the Indianapolis Motor Speedway for the iRacing Indy 500 and to defend my title. My goal for the race is to do better than I did the previous time I raced it. Seeing that I won the last time, outdoing that was going to be a challenge.
During warm up, I got my first taste of the competition. The HondaBro Shitpost Special looked really good. By the time warm up ended, Team Oppo topped the charts, it looked to be a real good race for us. We would be starting 23rd of the 33 cars.
The start of the race went, badly, well depending on how you look at it. From warm up, it was pretty obvious that starting near the back would mean grinding my way through slower traffic. There was a large checkup at the start going into Turn 1. I decided to just take the car to the apron and let the field go by. Then I would pick them off one by one once the field strung out, there was still 499 miles to go and a lot of cars left in the race.
33 cars started the race, and soon cars began to fall out. The excitement of side by side racing and grabbing positions caused people to take risks, many of which did not end well. I was mired in the back of the pack for most of the beginning 1/4 of the race, but it wasn't a big deal. Keeping distance from the pack meant that I had plenty of reaction time when incidents arose.
The Team Oppo crew did a superb job of getting positions during yellow flag pit stops. In fact, they did pretty good for the whole race. The Shitpost Special was doing just fine and we were having a great Saturday afternoon drive.
Patience and good execution is how you make it to the end of these events. It is difficult when your car is good to maintain patience. You just want to slice and dice through the field to show you are the best. But that is how good cars end up as wads of sheet metal.
After those early yellows, the racing began to heat up. Groups were formed, and it became apparent which cars were going to be competing for the win. The first half my race was spent riding on my own in between packs clicking off laps. I knew the car was good and didn't want to do anything to jeopardize it. I wanted to make it to the end.
Over the course of a stint, the handling of the car would deteriorate. The main culprit was oversteer from heat build up in the right rear tire. It was a problem I have been fighting throughout testing. Thankfully the Dallara DW12 has on-board adjustments to combat these issues. Unfortunately this meant the car was great for the first 20 or so laps of a run, but would fall of quickly after. I was racing hyper conservative and would try to stay ahead of any slight deviation. This distraction probably hindered my lap times a bit. It definitely cost me some track position, but it is better than crashing the car.
Things really didn't start heating up about halfway through the race. At this point, I began putting together my strategy for the end. I quickly realized that I should have started thinking about this earlier. The forums stated that it would be 28 laps to a tank of gas. We were getting about 30 laps per tank. I also realized that I did my math incorrectly and ended up 10 laps off what I should have been. Unfortunately, I realized this screw up just when coming to pit road was ill-advised.
This screw up did get me into 2nd place, which I guess was the one positive thing to take from this. But the focus shifted to trying to fix the mess up. At this point, I was about 10 laps short of making it to the end, far too long to try conserving fuel without losing all chance of winning. Short pitting was about the only chance I had.
So I ran about 25 laps and stopped, then stopped again about 20 laps later, this got me on the same pit strategy as everyone else. However, this extra stop resulted in me being about 2/3 of a lap down from the leader. The car was the fastest car on the track, but trying to make up 30 seconds in 40 laps was very difficult. What we needed was a caution.
As the laps trickled down it became more and more apparent that a yellow was a pip dream. I was driving the car as fast as I could, but there simply was not enough laps left. Though it wasn't all bad, at this point we were running in 6th place. After spending most of the first 100 miles in the 20s, and the middle portion in the teens, it was looking to be a great run for the Shitpost Special.
We cross the line with 6 laps to go in 5th place. I am hard on the task of making up 24 seconds in 6 laps, but I knew it would be next to impossible. I was disappointed that I messed up my calculations because I knew we had a car that could win. Though happy with 5th, I knew we could have done better, I wish we had a chance.
Remember that yellow I wanted...
Holy cow! A chance. We got one more shot to win. To be honest, with five laps to go, I wasn't sure if we going to go back green. Riding in 5th, we were the last car on the lead lap. I decided to pit and get tires. If we went back green we would carve the field. Once I left the pits, I was informed it was 2 to green. This was going to leave is with 2 laps left, or to NASCAR guys, a Green, White, Checker.
Green flag came out, and of course the guy in front of me didn't go, of course. You can watch the last two laps below.
If you want the TL:DW, read below the video jump.
I carved my way up to 3rd place. The car was an absolute rocket. In my haste to deal with 4th and 3rd. The leader began to get away. Coming out of Turn 4, the White Flag was being waved by the flagman, 2nd Place was in my grasps. By now the leader was about 1.2 seconds ahead of us and getting to him was going to be a challenge. I had to make quick work of the second place car.
He defends the bottom on the front straight forcing me to go high. We barrel into Turn 1 wheel to wheel. Him on the inside, me holding firm on the outside trying to make it around the corner. And we touch...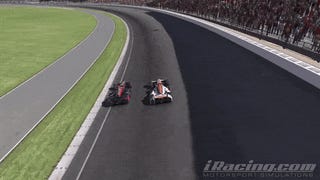 BAM!!! Into the wall, shades of JR Hildebrand. 499.25 miles perfectly clean and tidy to end in the south chute wall. Fortunately the motor wasn't damaged too severely, and I was able to limp the car back home. The HondaBro Shitpost Special made it all 500 miles!


Once the dust settled, the HondaBro Shitpost Special came home in 5th place.
Is it possible to be happy and disappointed at the same time? That is pretty much how I felt by the end of this race. After a run like that you start playing the "what if game" What if I hadn't messed up my pit strategy? What if I didn't take the outside line? These feelings are elevated because Team Oppo had a very good car. If it wasn't for me screwing up my math, I am sure we could have been in a better position and have a chance to win the race. I know if we had 3 to 4 laps left I could have at least caught the leader. In the end I am satisfied, I have competed in 3 iRacing Indy 500s and have finished 8th, 1st, and 5th so I cannot complain. It was a fun and difficult event as always. Regardless of where I finished, I am happy to cross the 500th mile - no matter what shape the car is in.
The next event is the iRacing 24 Hours of LeMans, June 10th-11th. Unfortunately, I will not be available that weekend, but if a group wants to get together and run it, that would be awesome, and I will do what I can to help.