So do you have the willpower to be the virtual Will Power?
If you are an Indycar fan, iRacing has you covered. However, I have good news and bad news. The good news is that it will not take you long until you are driving Indycar, but iRacing does not host a world championship for you. However, iRacing's Indycar community are some of the most dedicated on the service. So they formed their own World Championship, and got partnership with Indycar. Maybe this is a sign of how thing will proceed.

The road to Indycar will not make sense. Indycar is a road and oval combined series. For the road side it is a little more logical, but the oval side won't be as much.

Rookie
Oval
Unfortunately, your only options are the Street Stock and Advanced Legends. I would suggest that you move into the Legends series as soon as you are able. The reason I suggest this is because the Legends cars have slight wheel exposure like an open wheel car and will give you some experience in "open-wheel" racing.
Road
All I can say is make your way up to D class not matter how.

Dallara Challenge (Unofficial)
Fortunately iRacing added a new series called the Dallaa Challenge. It is an unofficial series that uses the included IR-05 Indycar. I highly suggest using this series to get familiar with Indycar racing and how and Indycar handles. However, this is an unofficial series. It does not count toward license advancement, and the drivers will be worse than in upper series.
Class D
Oval
Pick one. I can't offer many suggestions here. The SK Modified is probably the closest thing to an open wheeled car at this level.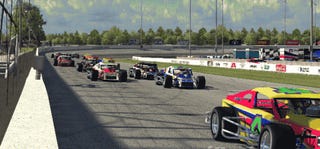 Road
The best choice is the Skip Barber. It is a low powered open wheel racer. It will allow you to improve your road racing skills.
When you feel comfortable feel free to move up to Class C

Class C
You have made it. Indycar is located here. iRacing is debating what to do with the Indycar, but for the moment it is being hosted at the C Level. There used to be a B Class Series, but I am not sure if they are doing that anymore. Your challenge really begins here. If you don't feel quite ready, take some time in the Star Mazda and improve your skills.
The iRacing Indycar community is very close knit. The only way to move yourself up the ladder, other than building your iRating, is to impress the tenured drivers with your racecraft. This will let you get invited to a team, which can then transport you to the "world championship."
"World Championship"
There is no official iRacing World Championship, as much as I think there should be one. Currently the 16th Street Racing League has established itself as the pinnacle of the Indycar ladder. They run during the Indycar off-season and this season they have some real Indycar drivers running with them. To qualify for this league you can get in contact with the administrators, but you better have the stats and some friends to back yourself up.
Image Credit: iRacing.com
To return to the original post, click here.